Established in 1938, the Charles Edgar Hoyt Memorial Lecture is one of metalcasting's most important and influential annual addresses. Over the years, many of the industry's most celebrated leaders, thinkers, and visionaries have delivered the Hoyt Lecture, presenting their unique insights into metalcasting's past, present, and future.
The lecture is a highlight of every Metalcasting Congress. It is named in honor of Charles Edgar Hoyt, who served as AFS's first secretary starting in 1916. The cast statuette presented to each lecturer, pictured below, is a replica of the Greek statute Winged Victory of Samothrace.
---
2022 Hoyt Memorial Lecture
---
Hoyt Memorial Lecturers
2023: John "Chip" Keough
2022: Jean Bye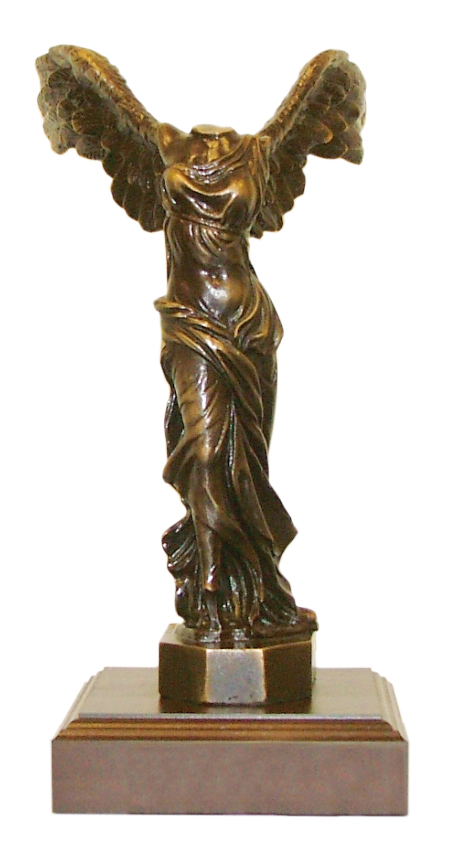 2021: Greg Miskinis & Tom Prucha
2020: No lecture
2019: Dr. Doru Stefanescu
2018: Dan Oman
2017: Douglas Trinowski
2016: Richard Gundlach
2015: Sara Joyce
2014: Kathy Hayrynen
2013: Eugene C. Muratore
2012: John Campbell
2011: Dennis Dotson
2010: Gary M. Gigante
2009: David Weiss
2008: Joseph A. Carpenter
2007: Diran Apelian
2006: Thomas H. Davies
2005: Theodore J. Schorn
2004: George M. Goodrich
2003: R. Conner Warren
2002: Daryl F. Hoyt
2001: Dwight J. Barnhard
2000: Paul H. Mikkola
1999: Jack Bodine
1998: Gary Ruff
1997: Ezra Kotzin
1996: Peter R. Bridenbrugh
1995: Diana L. Waterman
1994: John L. Jorstad
1993: Lawrence Kruger
1992: Carl Loper, Jr.
1991: Hugh M. Sims, Jr.
1990: Dr. Seymour Katz
1989: George N. Booth
1988: Dr. William P. Shulhof
1987: Ray H. Witt
1986: Mervin Rowley
1985: Robert E. Eppich
1984: Carl A. Weigell
1983: Thomas K. McCluhan
1982: Charles F. Knight
1981: Richard Flinn
1980: Charles Drury
1979: Samuel C. Clow
1978: Newton Sacks
1977: John Rassenfoss
1976: Burleigh Jacobs, Jr.
1975: John Wallace
1974: Sam Carter, Jr.
1973: Clyde Sanders
1972: Keith D. Millis
1971: Ronald Ruddle
1970: Warren C. Jeffery
1969: Jerzy Meier
1968: Charles Briggs
1967: Ralph Carlson
1966: Chester Nass
1965: Thomas E. Barlow
1964: Merton Flemings
1963: Walter Sicha
1962: Henton Morrogh
1961: John Caine
1960: William J. Grede
1959: Harry Mark St. John
1958: Walter Remmers
1957: H. Bornstein
1956: S.C. Massari
1955: Fred Walls
1954: Harry Dietert
1953: James H. Smith
1952: John Bugas
1951: James C. Zeder
1950: W.W. Levi
1949: John Howe Hall
1948: Charles E. Nelson
1947: Dr. J.T. MacKenzie
1946: Dr. G.H. Clamer
1945: Dr. H.A. Schwartz
1944: Dr. H.W. Gillett
1943: John W. Bolton
1942: Lt. Comm. S.J. Singer
1941: S. Wells Utley
1940: Charles E. Wilson
1939: F.H. Clausen
1938: Charles R. Hook