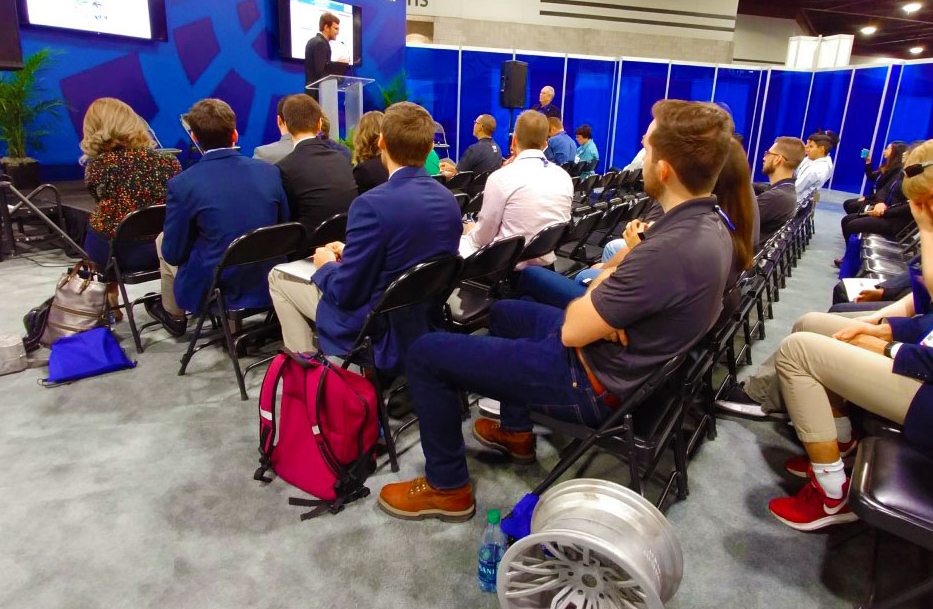 Make your mark in the industry's original casting research scholarship competition. Earn scholarships and get published!
---
The IJMC/FEF Student Research Competition empowers top undergraduate college students to showcase their metalcasting research projects at CastExpo 2022. Winners will earn scholarships and be published in the International Journal of Metalcasting.
All eligible submissions will be judged by a leading panel comprised of the AFS Research Board and officers of the AFS Technical Council. Up to $4,000 in total scholarships will be awarded.
▸Download presentation template
▸Download rules and qualifications document
Presentation Details & Participation Guidelines
Entries for the IJMC/FEF Student Research Competition consist of narrated PowerPoint presentations reflecting a student's or group's research. Presentations must include: Abstract, Introduction, Objectives, Testing Methodology, Results, Conclusions, and References. Narration should be recorded in PowerPoint and explain the project and its conclusions as presented in the slides, similar to a live research presentation.
Students must use the PowerPoint template provided here.
Select entrants will be invited to showcase their projects live on the exhibit floor at CastExpo 2022 on Saturday, April 23, 2022, in Columbus, OH. Students will field questions from judges.

Presentations are due no later than Friday, March 18, 2022. Submit PowerPoints to bwallace@afsinc.org. Please include names, project title, and college/university in your email message.
Qualifications
The IJMC/FEF Student Research Competition is open to North American citizens who are undergraduate students currently enrolled in metalcasting-related programs at FEF-certified and affiliated schools. Applicants must be registered with FEF, have a current student membership with AFS, and be enrolled in the current academic year.
Entries must represent current or recent undergraduate-level work performed by the student(s) in metalcasting technology or molten metal processing. Group projects are permitted. Each student may enter only one submission. Groups will split scholarship money.
All presenting students must register and attend CastExpo 2022 (April 23-26, 2022) in Columbus, OH. CastExpo registration is complimentary for all student members. Students must be available for presentations and a live Q&A with judges at CastExpo on the afternoon of Saturday, April 23, 2022.
Questions? Contact Bo Wallace, Senior Technical Associate, American Foundry Society at bwallace@afsinc.org.
| | |
| --- | --- |
| Judging Criteria | Points |
| Technical Content: Completeness of work, interpretation of work, and results, analysis, discussion, references/bibliography. Sufficiency of data to validate conclusions. | 40 |
| Relevance: Relevance and applicability of the research to the metalcasting industry. | 25 |
| Innovation: Originality of ideas, concepts or approach.       | 25 |
| Presentation: Overall style is effective. Information is concise and logically organized. | 10 |
| Total                                         | 100 |