Getting involved in an AFS Chapter makes all the difference. 
Chapters are your opportunity to engage at the local level with industry peers. Through meetings, facility tours, informative presentations, and more, you will have the opportunity to develop your expertise and advance your career.
AFS Chapters cover the U.S., Canada, and Mexico. To find your local chapter, check the list below. For more information about getting involved in an AFS Chapter, contact Ben Yates at byates@afsinc.org or select a chapter link.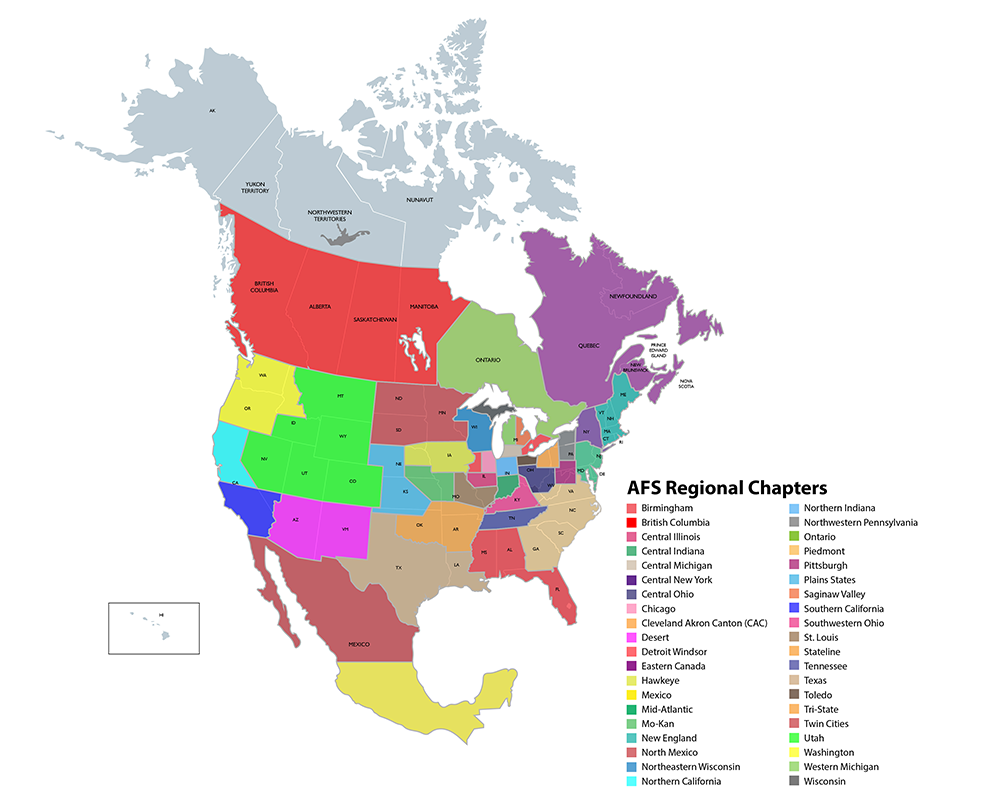 View AFS Chapter events:
Get a view of upcoming AFS Chapter events.
For Chapter leaders:
The AFS Chapter Success Template provides chapters with a ten-step approach to advance the AFS mission on a regional level.
AFS Chapter Bulletin:
Midwest

CAC-Ohio
(Cleveland/Akron/Canton,
Ohio region)
Website 

Central Illinois  

Central Indiana
Website 

Central Michigan
Website 

Central Ohio
Website             

Chicago
Website 

Detroit/Windsor
Website             

Hawkeye (Iowa region) 

Mo-Kan (Missouri/Kansas region)
Website             

Northeastern Wisconsin
Website             

Northern Indiana
Website 

Plains States (Great Plains region)

Saginaw Valley
Website 

Southwestern Ohio       

St. Louis
Website 

Stateline (Northern Illinois/
Southern Wisconsin region)

Toledo

Tri-State (Oklahoma/Kansas
/Arkansas region)

Twin Cities (Minnesota region)
Website             

Western Michigan
Website             

Wisconsin
Website

 

East

Central New York           

Mid-Atlantic
Website

New England
Website             

Northwestern Pennsylvania
Website

Pittsburgh
Facebook

South

Birmingham District
(Alabama region)
Website 
Facebook 

Piedmont (Southeast U.S. region)
Website 

Tennessee
Website 

Texas
Website

West

Desert (Arizona/New Mexico)

Northern California
Website 

Southern California
Website 

Utah

Washington

Mexico

North Mexico

Canada

British Columbia
Website 
Facebook  

Detroit/Windsor
Website             

Eastern Canada
Website 

Ontario
Website