Fostering innovation is one of the three pillars of the AFS mission. AFS has a long history of sponsoring metalcasting research and innovation. The goal of AFS research is to move the metalcasting industry forward, remove technical barriers and gaps, and improve the overall efficiency and quality of the metalcasting process.
AFS works with leading casting technical experts to discuss state of the industry, and ask leading questions such as: What would make our job better? What would we like to be able to do in 5 years, or 10 years that we cannot do now? AFS research projects help develop new technologies, improve our understanding of basic casting issues, and benchmark best practices. 
AFS involvement in metalcasting research has two facets: direct funding, and partnerships.
---
AFS-Funded Research
AFS directly sponsors research programs through a fund based on an allocation of a portion of AFS Corporate Member dues. The Research Board selects projects and provides oversight. Most research projects are developed by the AFS technical committees and their members serve as the steering committee to help monitor and direct the research toward project goals and objectives. The mix of projects varies each year, based on submissions from the divisions.
If you are interested in participating in an AFS research project or committee activity, contact the AFS Vice President of Metalcasting Technical Services Brian Began at bbegan@afsinc.org, or Senior Technical Associate Bo Wallace at bwallace@afsinc.org.
To submit a research proposal, click here.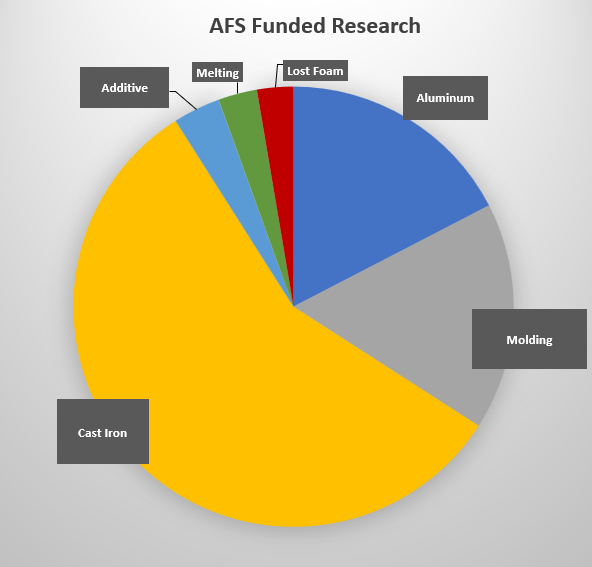 Chart updated August 2023
---
Research Partnerships
AFS is also involved in outside casting research programs. These partnerships and consortiums allow AFS to participate in additional funding and provide additional value to the industry. AFS is involved in two primary partnerships:
AMC: AFS maintains its collaboration with the American Metalcasting Consortium. The consortium is a research partnership including four metalcasting associations to promote cast metals research and infrastructure improvements to benefit U.S. military and defense needs. AMC is funded through the U.S. Department of Defense, Defense Logistics Agency, managed through the Advanced Technology Institute (ATI). Under the current (5 year) program, AFS is directly managing two projects.  
The first project is investigating the use of intelligent manufacturing to improve casting design and process optimization. Using known casting process variables, historic data and probabilistic modeling to determine unknown process variables, the program goal is to develop more rapid and accurate prediction of casting properties and more consistent part quality.
A second project will enhance the AFS Casting Alloy Data Search tool (CADS). Publicly available on the AFS website, CADS provides casting design engineers with a searchable database of qualified alloy properties. This new program will continue building the CADS database, including new alloys and sand mold properties. CADS draws more than 100 visits per month to the site.
In addition, AFS also provides technical oversight and guidance for two additional projects managed by outside investigators. One program is investigating the use of ultrasonic cavitation to disperse nanoparticles into molten aluminum to produce metal-matrix composite castings for improved properties and high temperature performance for cast aluminum components.  A second project is focused on producing metal-ceramic composite lattice castings for impact and penetration resistant applications.
ACRC: AFS is also a member of the Advanced Casting Research Center (ACRC), an industry-university research consortium focused on addressing the global foundry industry. As a member, AFS assists in oversight and selection of casting-related research programs. ACRC is located at the University of California, Irvine. ACRC is currently managing an AFS recommended program on innovative heat treating for aluminum alloys.
---
AFS Research Board
The AFS Research Board nominates a slate of potential new candidates in the fall meeting. The current chair contacts the candidates regarding their interest in serving, and the current research board members select the incoming member at the winter meeting. The five-year term for the new member begins in the second calendar quarter.
If you are interested in getting consideration for joining the AFS Research Board, please send a one or two page biography to bbegan@afsinc.org or bwallace@afsinc.org.
---
Research Now Underway
Innovation is at the heart of the AFS mission – and at the heart of innovation is research. Currently, 15 research projects are in various stages of development.
Click here to view current AFS-Funded Research.
---
Research Success Stories
AFS-funded research serves the entire metalcasting industry. Click below to learn more about some of our most impactful recent projects.