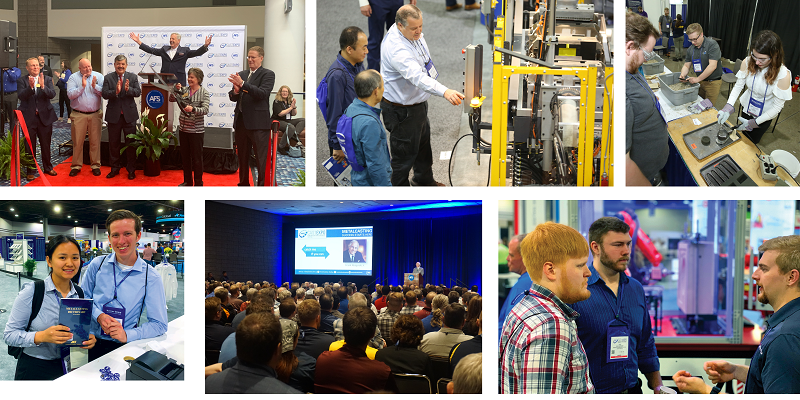 CASTEXPO 2022 | APRIL 23-26, 2022 | GREATER COLUMBUS CONVENTION CENTER, COLUMBUS, OHIO, USA
CastExpo 2022 is your prime chance to connect with suppliers, peers, and customers. Catch new ideas to excel at your job and improve your business. Take advantage of the heralded technical and management sessions, plus AFS Institute courses, keynote speakers, shared interest group meetings, and the AFS Hub on the exhibit floor.
What You'll Experience at CastExpo 2022
▸RESEARCH, EDUCATION, AND KNOWLEDGE-SHARING
CastExpo's unparalleled educational content draws metalcasting professionals at all stages of their careers. Plan for four days packed with dozens of technical and management presentations that will cover every major alloy, process, and related foundry topic. Selected presentation topics will cover:
• Ferrous & non-ferrous alloys
• Additive manufacturing
• Industry 4.0
• Engineering
• Environmental, health & safety
• Molding
• Melting
• Pouring
• Quality control
• Casting design & purchasing
• Workforce development
• Marketing & sales
▸CUTTING-EDGE SUPPLIER & FOUNDRY EXHIBITS
Worldwide suppliers to the metalcasting supply chain will showcase the cutting-edge products, services, and technology for metalcasters, from consumables to equipment to consulting. A large turnout is expected!
Leading North American foundries will share the latest services and capabilities with designers, buyers, and OEMS in the Cast in North America (CINA) hall.
▸HOYT LECTURE & KEYNOTE ADDRESSES
Another highlight of CastExpo 2022 will be the Annual Hoyt Memorial Lecture plus thought-provoking keynote addresses. These events are included in the cost of your CastExpo admission.
▸EXPERT METALCASTING TRAINING
Push you and your team's metalcasting training to the next level with the AFS Institute! World-class instructors will present the Institute's most popular courses at CastExpo 2022, and they're all included with Education & Exhibits registration. 
▸DESIGNERS AND BUYERS TRACK
CastExpo 2022 is continuing its line of sessions focused on Casting Designers and Buyers. Sessions will be held in the AFS Hub on the show floor. Designers and buyers also are encouraged to "BYOB," or bring their own blueprints, to CINA foundries to explore their casting options.
▸HEALTH & SAFETY AT CASTEXPO 2022
Your health is our priority, so CastExpo has partnered with the Greater Columbus Convention Center to ensure a clean, safe venue to mitigate the spread of SARS-CoV-2 and other viruses. Learn more here.