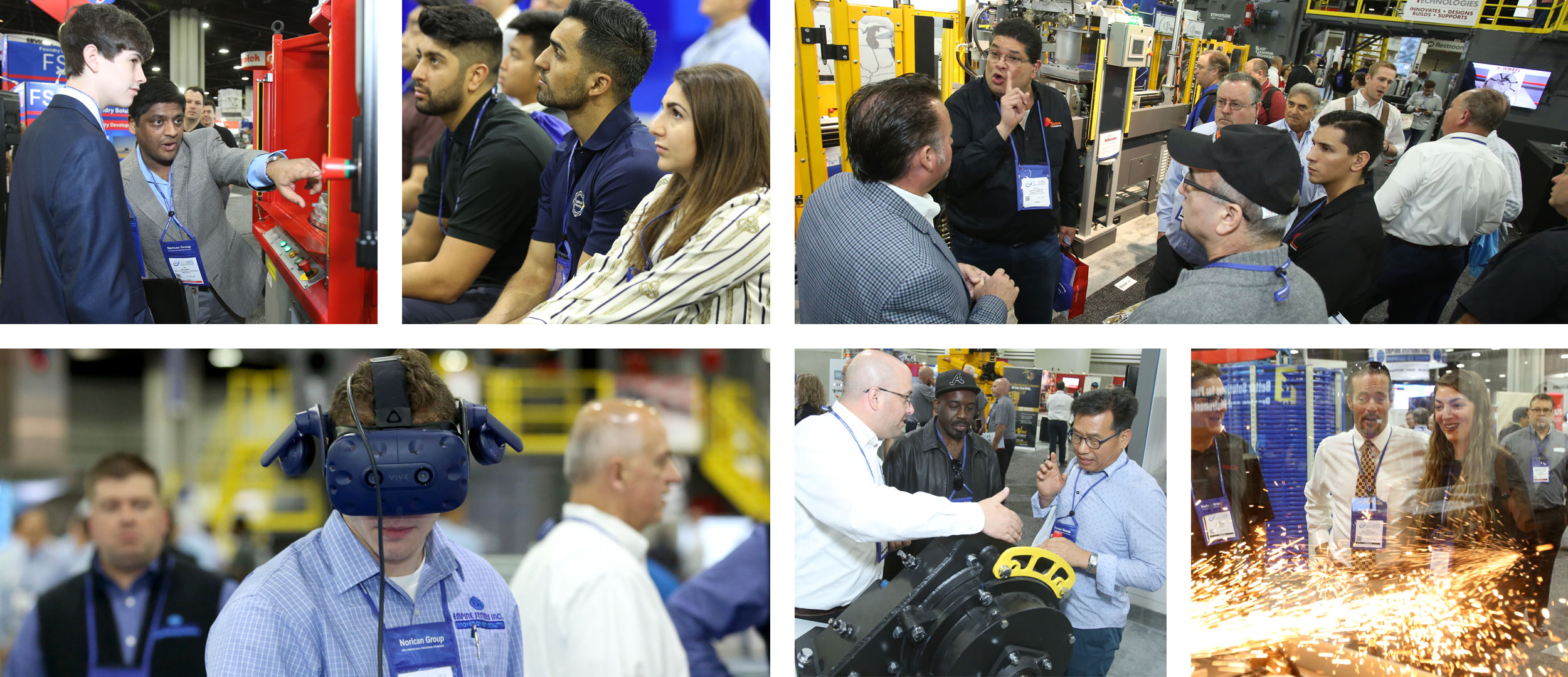 Take it from our hundreds of past exhibitors -- if your company supplies the $44 billion metalcasting industry in any way, you don't want to miss the opportunity to exhibit at CastExpo 2022, North America's largest and highest-impact trade show.
The expansive show floor will feature full-scale equipment demonstrations from hundreds of suppliers. Since so many foundries have had to restrict travel and access in 2020 and 2021, CastExpo will be more important than ever before in empowering suppliers to tell their stories and demonstrate their technologies to industry leaders and decision-makers. Exhibitors are encouraged to secure their space soon, as a large turnout is expected and floor space is strictly limited.
Exhibiting companies provide manufacturing products and services, including:
| | | |
| --- | --- | --- |
| ▸ Advanced Process Automation | ▸ Advanced Robotics | ▸ Additive Manufacturing |
| ▸ Artificial Intelligence & Machine Learning | ▸ Augmented Reality & Virtual Reality | ▸ Big Data and Analytics |
| ▸ Casting Conversions | ▸ Cybersecurity | ▸ Defect Elimination & Casting Quality |
| ▸ Design Optimization & Light-Weighting | ▸ Energy Efficiency | ▸ Environment, Health & Safety |
| ▸ Foundry Equipment: New for 2022 | ▸ Future Leaders in Metalcasting | ▸ Industrial Internet of Things |
| ▸ Insurance, Financial Solutions & Consulting | ▸ Machining and Finishing | ▸ Metallurgy & Melt Quality |
| ▸ Molds, Binders & Additives | ▸ Public Policy & Regulation | ▸ Research Findings |
| ▸ Reshoring | ▸ Sand Quality | ▸ Simulation |
| ▸ Supply Chain & Logistics | ▸ Wearable Technologies | ▸ Women in Metalcasting |
| ▸ Workforce Success | ▸ And More |   |
SUPPLIER EXHIBITS
Worldwide suppliers to the metalcasting industry are invited to exhibit their products and services to CastExpo attendees, who represent metalcasters working in all alloys and processes, as well as related areas such as EHS and engineering.
▸ Supplier Exhibit Reservations        ▸ Supplier Contract
FOUNDRY EXHIBITS
North American metalcasters are invited to exhibit in the exclusive Cast in North America (CINA) pavilion. Metalcasters in CINA can connect with OEMs, designers and buyers of castings, who have an exclusive track of educational sessions tailored to their needs.
▸ CINA Exhibit Reservations        ▸ CINA Exhibit Contract
Have questions or need help with your exhibit reservation? Email exhibits@castexpo.com.
---
Become an Official Sponsor
Gain maximum visibility before the metalcasting industry's biggest decision-makers by sponsoring CastExpo 2022.
As a once-every-three years event, CastExpo is the premier opportunity to advance your brand message. Sponsorships will soon be made available for purchase. A range of options will provide high-impact visibility and branding opportunities for a variety of budget points.
Contact Kim Farrugia at kfarrugia@afsinc.org to get on the shortlist for information about sponsorship opportunities as soon as they're announced!
SPONSORSHIP BENEFITS 

Platinum
Sold Out

Gold
$9,000

Silver
$6,000

OFFICIAL CASTEXPO 2022 PROGRAM GUIDE 
Your logo* is featured prominently in the official program guide's sponsor array.

•

•

•

PRE-CONFERENCE EMAILS
Your logo* is included in the sponsor array in all outgoing CastExpo 2022 emails, accounting for thousands of impressions across the industry over the course of nine months.

•

•

•

PRE-CONFERENCE MAILINGS
Your logo* is printed in the sponsor array in all CastExpo 2022 direct mail.

•

•

•

CASTEXPO 2022 WEBSITE 
Your logo* and web link are included in the sponsor array on the CastExpo 2022 website.

•

•

•

SPONSOR BADGE RIBBONS
All company employees will receive badge ribbons denoting your sponsorship level.

•

•

•

OFFICIAL SPONSOR LOGO FOR MARKETING 
Market your participation at CastExpo 2022 with the Official Sponsor logo.

•

•

•

ENHANCED DIGITAL EXHIBIT OPTIONS
Receive expanded listing features, priority placement, and an Official Sponsor icon.

•

•

•

PRE-SHOW EMAIL FEATURE
An email blast to all registered attendees will spotlight sponsor companies' profiles and link to their digital exhibits.

•

•

 
SOCIAL MEDIA RECOGNITION 
Individual thanks on all AFS social media channels will be sent monthly. These will include your logo and will tag your related accounts.

•

•

 
ONSITE RECOGNITION
Your logo will be displayed prominently on select show-related signage in the lobby entrance to the exhibit hall.

•

•

 
DAILY PUSH NOTIFICATION
All CastExpo 2022 app users will receive push notifications thanking our Platinum Sponsors 
by name.

•

 
 
ENTRANCE FLOOR CLINGS
Your logo and exhibit number will be displayed on 10-foot floor cling decals at both entrances to the show floor.

•

 
 
SCROLLING TILE ON CASTEXPO 2022 FLOORPLAN 
Your logo and web link are showcased at the bottom of the official CastExpo 2022 floorplan.

•

 
 
HALL ANNOUNCEMENT
A daily announcement over the PA system at the Greater Columbus Convention Center will thank Platinum Sponsors by name.

•

 
 
CONFERENCE MOBILE APP SPLASHPAGE
Your logo appears in the sponsor array every time the official CastExpo 2022 app is launched (2-second splash page).

•

 
 
FOCUSED SPONSORSHIPS
AFS has a few unique opportunities for those seeking a more targeted audience at CastExpo 2022. You can support these important industry initiatives and build your brand at the same time through one of these simple, recognition-based sponsorships. These sponsorships are not exclusive. For more information, contact Kim Farrugia at kfarrugia@afsinc.org. Sponsorship Deadline: February 18, 2022.
SPONSORSHIP OPTIONS 
PRICE
WIM BREAKFAST SPONSOR
Be a sponsor of the Women In Metalcasting breakfast. Sponsorship includes logo on all materials related to the breakfast.
$600
CASTING SOURCE THEATER SPONSOR 
Become an official sponsor of the Casting Source Theater, which will host the Designers & Buyers education track. Your company logo will be placed prominently in the theater and also be included in all related marketing materials promoting these sessions to OEMs and other casting end-users. Only Available To Cast in North America Exhibitors.
$500
FOUNDRY-IN-A-BOX SPONSOR
One of the most interactive areas on the exhibit floor, the Foundry-in-a-Box demonstration receives a constant flow of attendees of all ages and experience levels who want to make a casting. Sponsors will be recognized on displays at the station and also have an opportunity to collaborate on a branded pattern. Branded Patterns Must Be Finalized By January 14, 2022.
$1,200
SPONSORED PRESENTATION IN THE AFS HUB
Present and persuade attendees as an official session listed in the agenda in the Casting Source Theater, located on the show floor in the AFS HUB. If you have something new, innovative, and groundbreaking to share with the industry, you can do so in one of these sponsored sessions, mixed in with regular AFS programming. All sessions are a firm 30 minutes in length and include a general hall announcement 15 minutes in advance. Session time spots are reserved with full payment. 11/11 session slots available. Any Sponsored Presentations submitted after Feb. 11, 2022 will not be included in the physical Show Guide.
$2,500
ON SITE SIGNAGE
Get visibility and drive traffic to your exhibit with flexible marketing opportunities. Whether its in print, on their phones or on the wall of the convention center, you can deliver your message in an area it is sure to be seen by thousands of decision makers.
MARKETING OPPORTUNITIES
PRICE
CUSTOM SIGNAGE
Go bold with a custom sign in the highest visibility areas in the hall, ranging from smaller door clings to billboard sized banners, there is an option for all budgets.
Contact AFS
METER BOARD
Placed in high traffic areas at the entrance to the show floor, these graphic displays are double sided (84"h x 39"w).
$850
HOTEL KEY CARDS
Be visible to all AFS guests throughout the week by having your logo imprinted on the hotel room key cards distributed when guests check in at the official CastExpo hotels.
Contact AFS
▸HEALTH & SAFETY AT CASTEXPO 2022
Your health is our priority, so CastExpo has partnered with the Greater Columbus Convention Center to ensure a clean, safe venue to mitigate the spread of SARS-CoV-2 and other viruses. Learn more here.