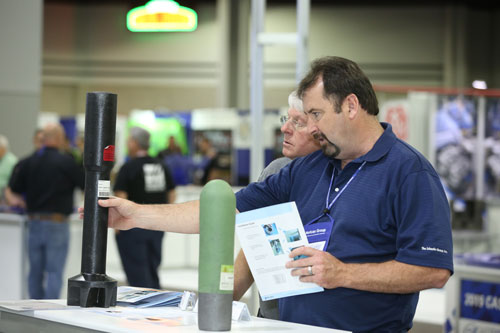 CastExpo 2022 is where casting designers, buyers, and OEM representatives will find sessions aimed at their needs, including 3D printing, sourcing, life cycle analysis, and more. Popular Casting Designers & Buyers Track sessions take place right on the exhibit floor near the Cast in North America (CINA) pavilion, featuring the continent's leading foundry exhibitors.
---
Cast In North America (CINA) Exhibits
Meet with North America's leading metalcasters at CastExpo! Representing a wide variety of metals and processes, CINA exhibits will showcase the latest foundry services and capabilities, and reps will be available to answer your questions.
You're also invited to bring our own blueprints (BYOB) to foundries exhibiting in Cast in North America. Show your casting drawings and machining drawings to representatives from North America's leading foundries, and they'll verify foundry capabilities, feasibility, costs, and material options.
---
Training for Casting Designers and Buyers
The Casting Designers & Buyers Track at CastExpo provides hard-to-find training for engineers, supply chain pros, and OEM representatives. Led by experts in their fields, these cutting-edge sessions are included with general admission and are presented on the show floor, near the CINA pavilion.
Casting Designers & Buyers Track Schedule
SATURDAY, APRIL 23, 1:30-2:30 p.m.
Trends and Case Studies in Additive Manufacturing
Tom Mueller, Mueller AMS, New Berlin, WI
Additive manufacturing has been universally adopted as a means to create prototype castings. It is also being used to create very low volumes of production castings. Despite these successes, there is virtually no use of printed pat-terns for low volume (200 + castings) production. Mueller will discuss the reasons it is not being used and go into detail about technology developments over the last few years that are making printed patterns viable for volume production. In addition, he will look at emerging markets that will require the use of printed patterns.
SUNDAY, APRIL 24, 1:30-2:30 p.m.
2021 Casting of the Year: Magna Subframe
Randy Beals, Magna Cosma, Lake Orion, MI, and Nandha Maria Pillai, Magna Cosma Casting Michigan, Portage, MI
Hear the story of the 2021 Casting of the Year in this session. Automotive demand for structural aluminum parts continues to grow, and the size of the parts OEMs want is also increasing. A single casting provides benefits over a multi-part steel weldment, including weight reduction and improved dimensional stability. Magna's Cosma Casting Michigan (CCMi) out of Battle Creek, Michigan, pushed its capabilities and design engineering expertise to produce a 1,159 x 1,070 x 199-mm front subframe on the largest commercially available diecasting equipment at the time—a 4,400-ton press. The 38.5-lb. (17.46 kg) diecasting resulted in a 29% weight savings over a 17-part stamped and welded steel assembly and helped the 2021 Acura TLX achieve "2021 Top Safety Pick+" status, which is the highest safety rating from the Insurance Institute for Highway Safety (IIHS).
SUNDAY, APRIL 24, 2:45-3:45 p.m.
Using Total Cost of Ownership to Buy and Sell Castings Smarter
Harry Moser, Reshoring Initiative, Kildeer, IL
Most companies make sourcing decisions based solely on price, often resulting in a 20% to 30% miscalculation of actual offshoring costs. In this session, Moser will show how buyers can use "total cost of ownership" to account for all relevant factors, including overhead, balance sheet, risks, corporate strategy, and other external and internal business considerations that affect true cost.
MONDAY, APRIL 25, 2022, 9:30-10:30 a.m.
Working With Your Casting Suppliers to Shorten Lead Times
Anthony D'Agostini, Tooling and Equipment International, Livonia, Michigan
Metalcasters employ numerous methods to trim lead times for their customers without compromising quality. This session will discuss ways casting buyers can work with their foundry sources to avoid delays in product development and delivery.
MONDAY, APRIL 25, 2022, 1:30-2:30 p.m.
Auditing a Foundry Workshop
Jim White, Consultant, Peoria, IL
The need for an audit can come at different times during a supplier relationship. The obvious time for an audit is when vetting a new supplier, but other instances could be when specific issues have come up that need to be ad-dressed, or if significant organizational or management changes have occurred at the supplier. Every audit will have a different purpose or objective, depending on the situation, and should be customized appropriately. White will walk attendees through the steps to a meaningful evaluation of a potential or existing casting supplier.
TUESDAY, APRIL 26, 2022, 9:30-10:30 a.m.
Using CADS (Casting Alloy Data Search) to Choose the Best Alloy for the Job
Jiten Shah, Product Development & Analysis LLC, Naperville, IL
CADS, or Casting Alloy Data Search, is a unique resource provided by AFS, in conjunction with the Defense Logistics Agency. All properties in CADS have a known "pedigree". CADS data includes detailed casting process pedigree in-formation based on process-related details, such as part-size, how it was made, or thickness of the material the test bars were taken from. Shah will instruct how to use this tool to give designers and specifiers a higher level of confi-dence in their material choice.