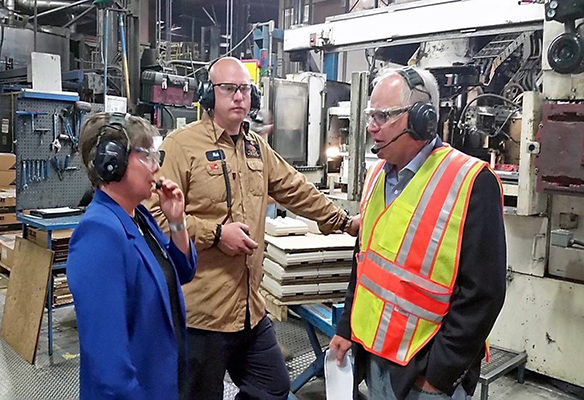 Metalcasters and suppliers have a huge financial stake in the outcome of key legislative and regulatory battles underway in the nation's capital. AFS is working aggressively with policymakers to shape an improved business climate that is more conducive to metalcasting and manufacturing in the United States.
If you represent a foundry or supplier company, here is how you can help!
Corporate Membership. Through corporate membership status, you support the work of the AFS Washington, D.C. office and headquarters in fighting for our industry, and you receive special updates reserved only for corporate members.
Plant Tours. By inviting your U.S. senators and representative, superintendent of schools, and other officials to tour your facility and meet some of your employees, you help them understand the positive role that foundries and suppliers play in the economy and as an employer. Tours may occur on Manufacturing Day (first Friday of every October) or any other time. Please advise the AFS office when such tours are held, and be sure to take photographs.
Committee Service. You or a colleague may wish to serve on AFS committees that pertain to Environment, Health and Safety (open to all members) or Government Affairs (committee size restricted – advise AFS headquarters of interest).
Action Alerts. From time to time, AFS issues action alerts, asking corporate members to contact their legislators. Your participation in these action alerts can help us prevail on key policy issues.
To explore corporate membership or participation in our advocacy efforts, contact Ben Yates, Vice President of Business Development, at byates@afsinc.org.