Plant Tours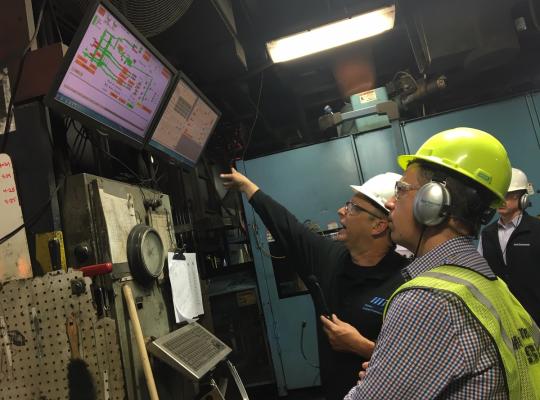 U.S. Congressman Jim Banks (IN-3) tours AFS Corporate Member Metal Technologies in Auburn, Indiana.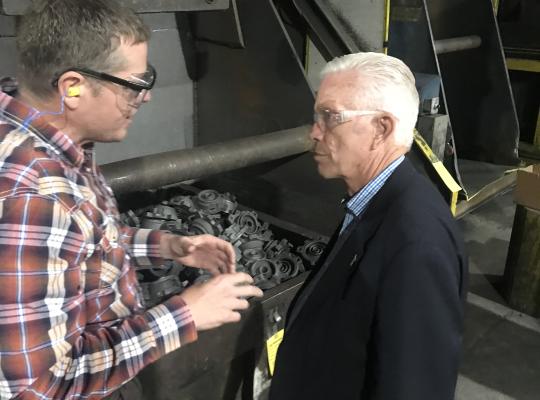 Ryan Burke, President of a family-owned iron foundry, OSCO Industries, Jackson, Ohio, hosted Congressman Bill Johnson (OH-6) for a plant tour on Friday, October 12, 2018. They discussed recent improvements to the foundry, as well as shortage of unskilled and skilled workers throughout the metalcasting industry, as well health care costs, and the impact of the Section 232 and China 301 tariffs. Congressman Johnson was a 2018 recipient of the AFS Metalcasting Industry Eagle Award for his strong support of the metalcasting industry as a member of the House Energy & Commerce Committee.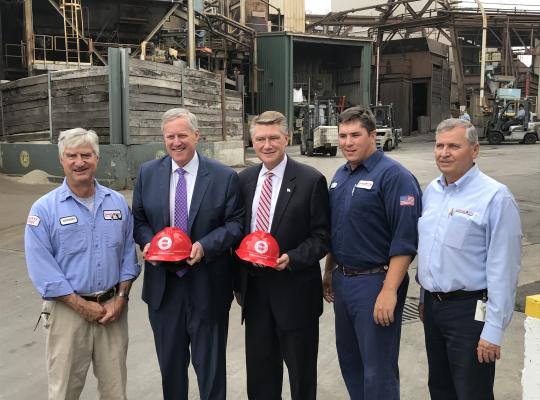 AFS Corporate Member Charlotte Pipe and Foundry hosted Rep. Mark Meadows (NC-11) and congressional candidate for an Oct. 9 2018 plant tour to see first-hand how pipe castings are produced and discuss key issues impacting the metalcasting industry.
Left to right in the picture -- Roddey Dowd Jr, CEO, Charlotte Pipe and Foundry; Rep. Mark Meadows (NC-11); Mark Harris, congressional candidate for NC-9th district; TJ Costello, Foundry Director of Operations, Charlotte Pipe and Foundry; and, Greg Simmons, Senior VP, Charlotte Pipe and Foundry.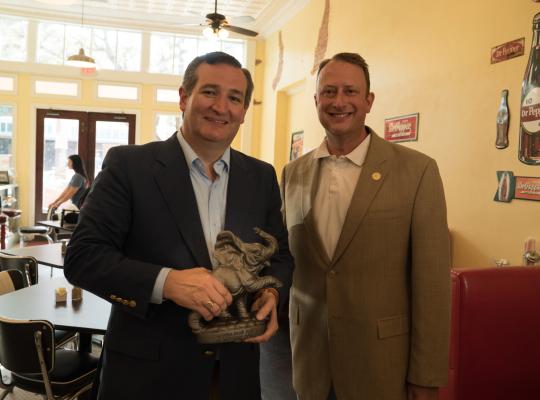 Eric Meyers, president of AFS Corporate Member Oil City Iron Works (Corsicana, Texas) meets in August 2018 with Sen. Ted Cruz (R-TX). Meyers presented Cruz with an elephant casting poured at Oil City Iron Works.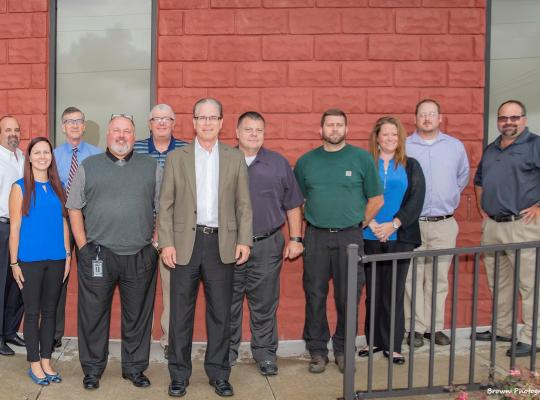 AFS Corporate Member Bremen Castings (Bremen, Indiana) hosts Indiana Senate Republican candidate Mike Braun in August 2018 for a foundry tour. Pictured in the front row, from left, are Jordan Brown, Bremen Castings President JB Brown and Braun.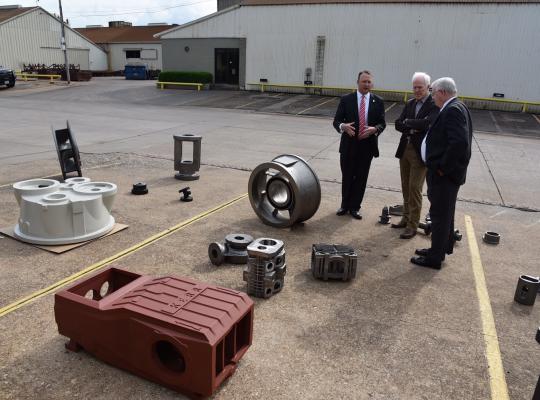 U.S. Senator John Cornyn (R-TX) joined Corsicana Mayor Chuck McClanahan, Navarro County Judge H.M. Davenport, and local job creators for a roundtable discussion on legislative issues that affect Corsicana's economy, including trade, infrastructure, labor, and environmental regulation. Sen. Cornyn toured the Oil CIty Iron Works facility during his visit. "For me personally and on behalf of Oil City Iron Works, It was an excellent open discussion on critical issues, primarily technologically and economically infeasible rules and regulations several federal agencies have rolled out under the previous administration, and why now is the perfect opportunity to tackle these truly overburdening regulations," Meyers said. "Senator Cornyn was very open and understood the harm these regulations are doing to our economy." 
Senator John Cornyn, a Republican from Texas, is a member of the Senate Finance, Intelligence, and Judiciary Committees.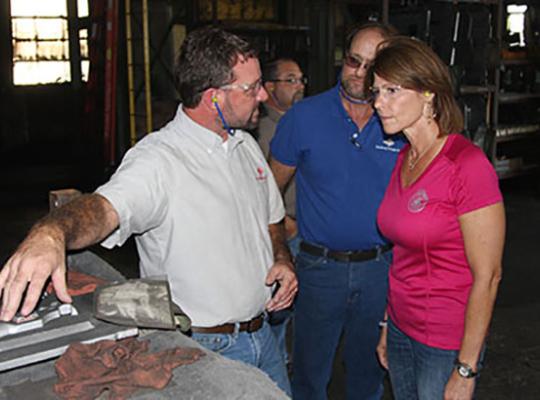 Galesburg Castings, Inc., an AFS Corporate Member (Galesburg, Illinois), hosted Representative Cheri Bustos (D-Illinois, right) for a plant tour and presentation on Tuesday, August 22, 2017.  Representative Bustos serves on the House Transportation and Infrastructure Committee, as well as the Agriculture Committee. Nick Fox (left), second generation owner of Galesburg Castings, discussed a host of issues impacting his foundry including: the importance of federal tax reform, workforce shortages, and the significant challenges of meeting OSHA's new silica rule to Representative and highlighting the cost to his plant and to the entire metalcasting industry.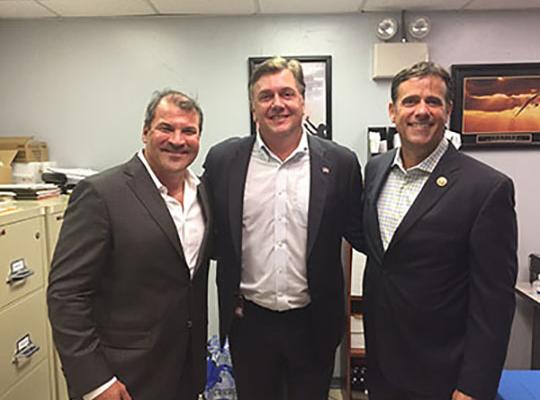 Rep. John Ratcliffe (R-Texas, at right) visited Denison Industries August 18, 2017 for a plant tour and town hall-style meeting with the metalcasting facility's staff. Here he is shown with Denison Industries CEO Chris Norch (center) and County Judge Bill Magers. The representative's appearance was part of a 15-stop tour of businesses.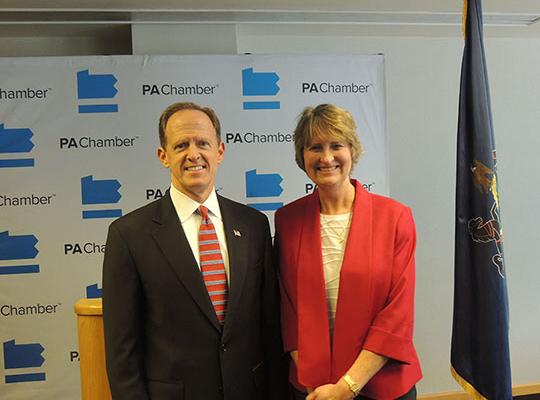 Senator Pat Toomey of Pennsylvania (left) met with AFS Member Janis Herschkowitz, President & CEO, PRL Inc. (Lebanon, Pennsylvania) July 15, 2016, at a Roundtable Event sponsored by the Pennsylvania Chamber of Business and Industry.
Herschkowitz joined Sen. Toomey and 20 other Chamber members for a discussion about the federal tax code and economic growth in the state of Pennsylvania.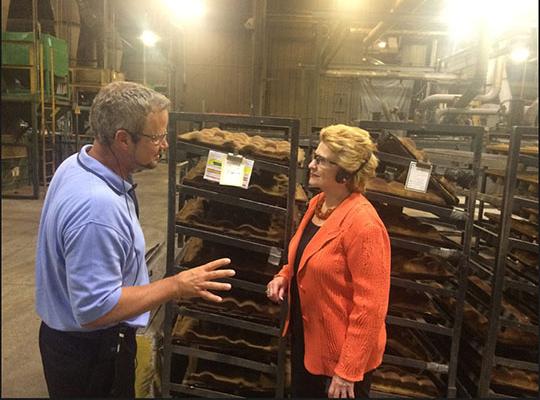 AFS Past President, Jeff Cook, Vice President Sales and Marketing, Eagle Alloy (Muskegon, Michigan) discussed the foundry process with Sen. Debbie Stabenow of Michigan on July 19, 2016. Sen. Stabenow visited Eagle Alloy as part of her small businesses tour.