American Foundry Society President Jean Bye (Dotson Iron Castings, Mankato, Minnesota) has been announced as a winner of the STEP Ahead Award from The Manufacturing Institute.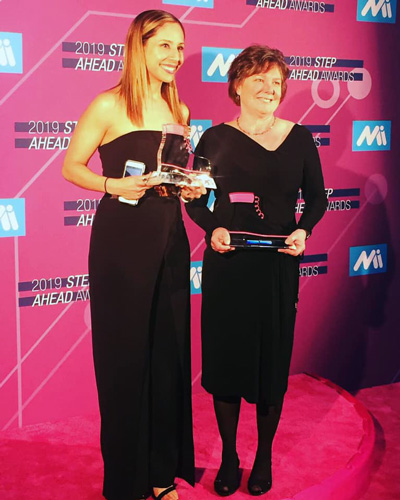 STEP (Science, Technology, Engineering and Production) Ahead Awards honor women who have demonstrated excellence and leadership in their careers and represent all levels of the manufacturing industry. Bye was nominated for this honor by AFS.
"Jean Bye has provided exemplary leadership as both the President/CEO of Dotson Iron Castings and as 2018-2019 President of the American Foundry Society (AFS)," said Doug Kurkul, CEO of AFS. "She has also served as an inspirational role model for hundreds of women in the metalcasting industry throughout North America. AFS congratulates Jean on her selection as a STEP Ahead Award recipient."
Also being honored with a STEP Ahead Award is AFS member and long-term volunteer Lizeth Medina Balliet, technical services manager at AFS Corporate Member Neenah Foundry Co. (Neenah, Wisconsin). Medina Balliet serves on AFS' Women in Metalcasting committee, among other roles in the society.
The Manufacturing Institute recognized STEP Ahead Award winners at a reception in Washington, D.C., on April 11. The awards are part of the STEP Ahead Initiative, which promotes the role of women in manufacturing.
The American Foundry Society is a dynamic technical and advocacy organization that serves and represents the $33 billion metalcasting industry. AFS is the only association serving the entire industry, including all metals and processes, with a three-part focus on advocacy, education, and innovation. AFS also publishes Modern Casting and Metal Casting Design & Purchasing magazines and presents Metalcasting Congress and CastExpo, the largest metalcasting trade events in North America. Founded in 1896, the organization is based in Schaumburg, Illinois, with an advocacy office in Washington, D.C. More information is available at afsinc.org.