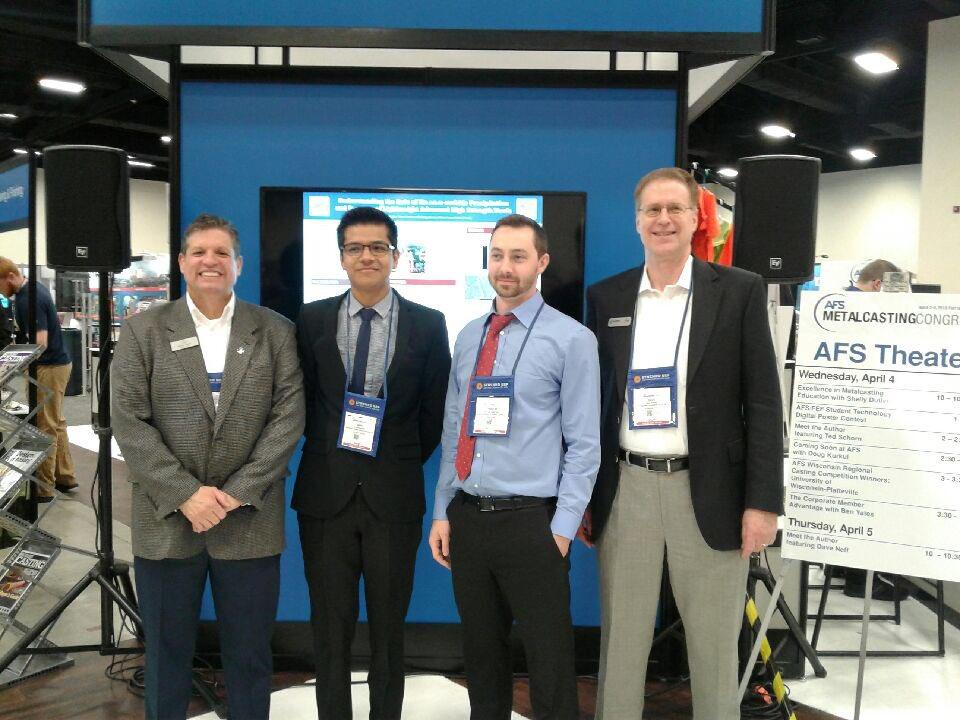 Two students shared first prize in the 2018 AFS/FEF Student Technology Contest at the 122nd Metalcasting Congress in Fort Worth, Texas, April 4.
Trevor Constance from Missouri University of Science & Technology and David Sánchez from Instituto Tecnológico de Saltillo were named co-winners of the annual competition, which required students to create digital posters of their metalcasting research and present their projects at Congress.
Constance's submission was "Understanding the Role of Mo on Kappa Carbide Precipitation and Fracture of Lightweight Advanced High Strength Steels." Sánchez's work was "Thermal Analysis: A Tool for Inoculation and Quality Control of Ductile Iron."
Organized by the American Foundry Society and the Foundry Educational Foundation, the Student Technology Contest judges entries on technical content, relevance, innovation and presentation. Constance and Sánchez will share the scholarship awarded to the winners.
The American Foundry Society is a dynamic technical and advocacy organization that serves and represents the $33 billion metalcasting industry. AFS is the only association serving the entire industry, including all metals and processes, with a three-part focus on advocacy, education, and innovation. AFS also publishes Modern Casting and Metal Casting Design & Purchasing magazines and presents Metalcasting Congress and CastExpo, the largest metalcasting trade events in North America. Founded in 1896, the organization is based in Schaumburg, Illinois, with an advocacy office in Washington, D.C. More information is available at afsinc.org.