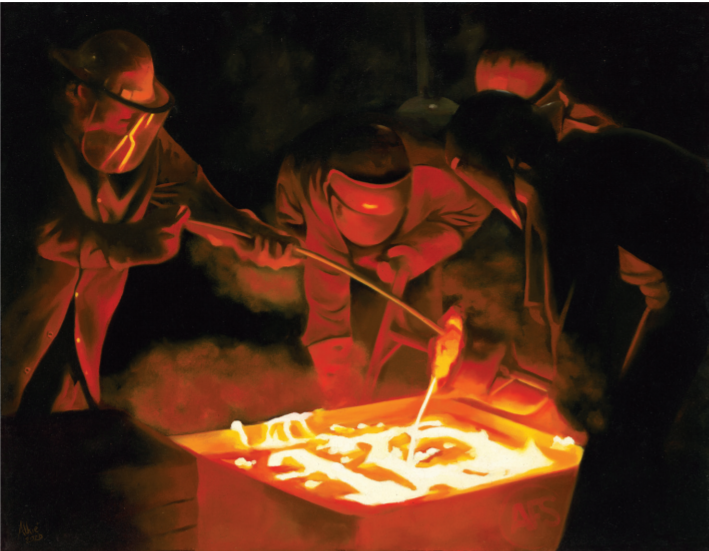 Sales of new artwork celebrating the American Foundry Society's 125th anniversary will benefit the Foundry Educational Foundation thanks to a generous gift from the AFS North Mexico Chapter.
"125 Years of AFS," a striking oil painting depicting four foundry workers hand-pouring metal, was created by Rodrigo Calderon, an accomplished artist and AFS member from Mexico who paints under the name R.C. Athie.
The original artwork was presented to AFS by the North Mexico Chapter. Chapter members wanted to celebrate AFS's anniversary and encourage industry education by allowing reproductions to be sold as a fundraiser for FEF, which supports students and teachers in metalcasting education. The art is now available for purchase from AFS in two ways: as a poster-sized print, and as a set of greeting cards.
The full-color print is suitable for framing, making it perfect for home or office. Measuring 24 x 36 inches, it retails for $42. To purchase, click here.
Greeting cards featuring the artwork are sold in packages of eight for $40. They measure 5 x 7 inches and include envelopes. To purchase, click here.
All profits from the sale of these prints and cards will be donated to FEF.