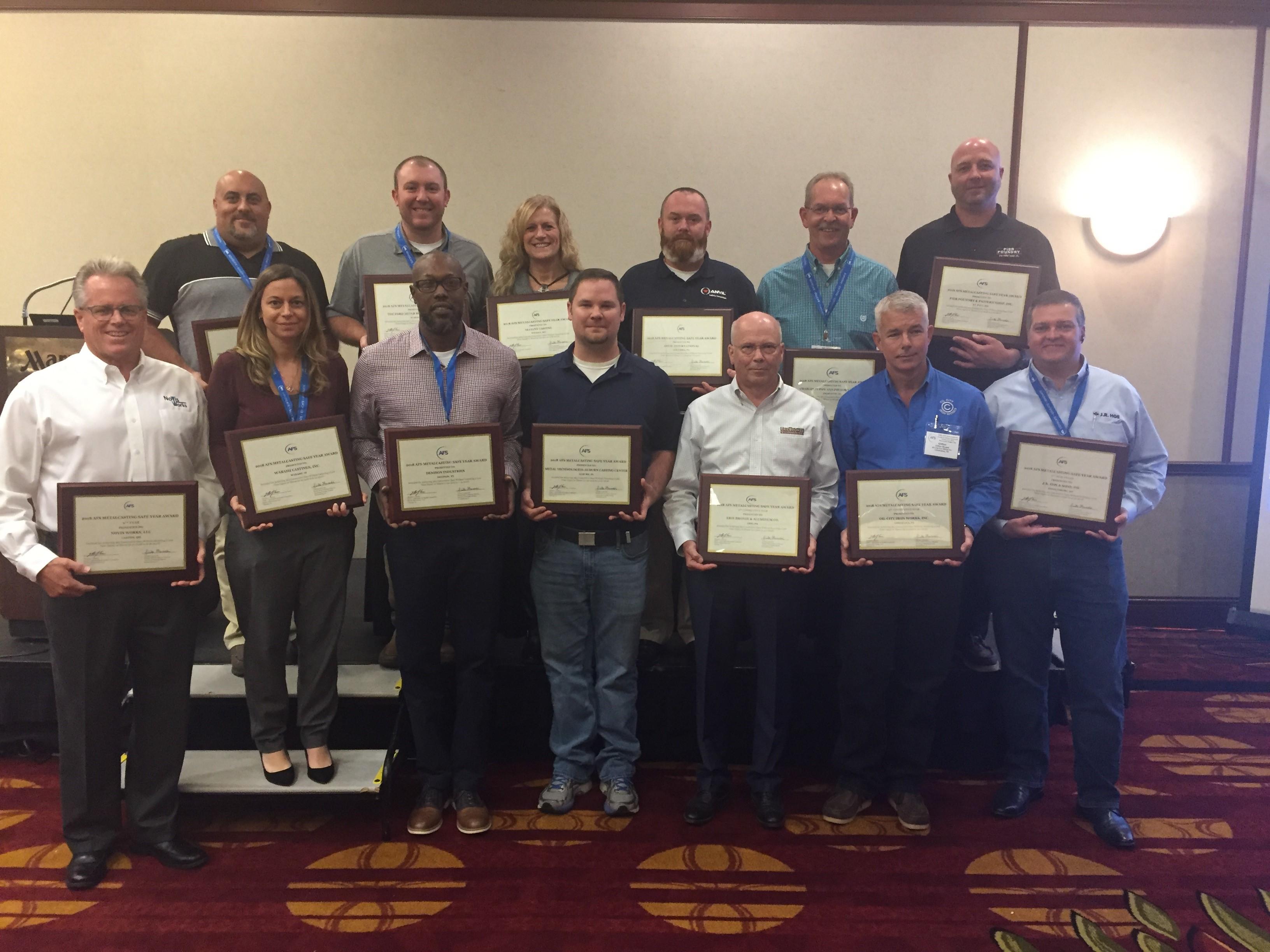 The EHS Division of the American Foundry Society honored 23 metalcasting plants for achievements in safety.

The plants received the 2017 Safe Year Award, which recognizes AFS Corporate Members for stellar safety records. To qualify for a Safe Year Award, winners must achieve one year without any lost-time incidents in their facilities.

The following plants won Safe Year Awards for their achievements in 2017:
Advanced Cast Products (Meadville, PA)
Alliant Castings (Winona, MN)
Anvil International (Columbia, PA)
Aurora Metals Division LLC (Montgomery, IL)
Charlotte Pipe and Foundry Company (Charlotte, NC)
Denison Industries (Denison, TX)
Erie Bronze & Aluminum (Erie, PA)
J.R. Hoe & Sons, Inc. (Middlesboro, KY)
Metal Technologies-Auburn Casting Center (Auburn, IN)
MetalTek International-Carondelet Division (Pevely, MO)
MetalTek International-Wisconsin Centrifugal Division (Waukesha, WI)
Metaltek International-Wisconsin Investcast Division (Watertown, WI)
Novis Works LLC (Canton, OH)
Oil City Iron Works, Inc. (Corsicana, TX)
Osco Industries-New Boston Division (Portsmouth, OH)
Pier Foundry & Pattern Shop, Inc. (St. Paul, MN)
T.B. Wood's Inc. (Chambersburg, PA)
The Ford Meter Box Company, Inc. (Wabash, IN)
US Pipe and Foundry Co- Bessemer (Bessemer, AL)
US Pipe Bessemer Works (Bessemer, AL)
US Pipe (Hoover, AL)
US Pipe Mini Mill (Bessemer, AL)
Wabash Castings, Inc. (Wabash, IN)
The awards were presented Oct. 10 at the 30th AFS Environmental, Health and Safety Conference in Warrensville Heights, Ohio.