The AFS Western Michigan Chapter knows its way around the links. 
After 79 years, it should. That's how long the chapter's annual golf outing has raised scholarship money for metalcasting students.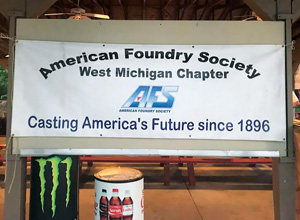 "It all goes back to, 'How do we keep people in the industry and how do we promote the industry?'" said Eric Gildner, the chapter's scholarship chairman. He and the rest of the chapter's board organized this year's outing, held Aug. 4 at Chase Hammond Golf Club in Muskegon, Michigan.
The outing is the Western Michigan Chapter's primary scholarship fundraiser. Last year, the chapter awarded more than $22,000 to students in the STEM fields, at Muskegon Community College, and as AFS family stipends.
This year's totals haven't been tabulated, but the chapter expects to serve roughly the same number of people this time around–about 19 students.
"We're able to do a pretty good job of giving," Gildner said. The chapter also administers the D.J. Campbell Scholarship, which is distributed through the Foundry Educational Foundation.
At the 79th annual outing, 136 golfers competed. Although most were chapter members, others came from different shops around the area, from AFS Corporate Members, and from suppliers.
"Our chapter really thanks the industry for its support, and we hope it continues for many years," Gildner said.
The scholarships will be presented March 12, 2019, during Student Night at Muskegon Community College. Besides the recipients, 11th- and 12th-graders will be there to tour the campus, which has its own AFS Student Chapter, and learn more about metalcasting.
"The whole premise behind that is to get students involved, to show students there are careers available in this field," Gildner said. "We have to continue working on building the next generation of foundry workers."