What does it take to be an AFS Chapter officer? Dedication, enthusiasm—and a feather touch on the gas pedal.
Those were key requirements for leaders who came to AFS Headquarters in Schaumburg, Illinois, Aug. 13-14 for the Chapter Officers Conference.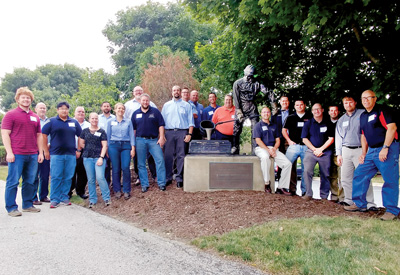 Twenty-three officers representing 17 chapters across the U.S. and Canada attended the conference, which began with networking
in the form of a mini grand prix at K1 Speed, a go-kart racetrack. 
The leaders exchanged tips for successful events and member initiatives, reviewed resources available to their chapters through AFS, and checked out Foundry-in-a-Box. Staff from AFS and the Foundry Educational Foundation also gave talks on industry stewardship, student engagement, workforce development, promotion of castings, technical innovation, CastExpo 2019, and other topics.
The conference was capped by a roundtable discussion and closing comments from AFS President Jean Bye (Dotson Iron Castings).
"It's always great to get like-minded people in the same room discussing their own challenges, successes, and aspirations for their chapters," said Ben Yates, AFS vice president of business development. "The goal is for everyone to return to their chapter with new ideas and information about what is going on at AFS, what resources are available to them and how they can advance the metalcasting industry."