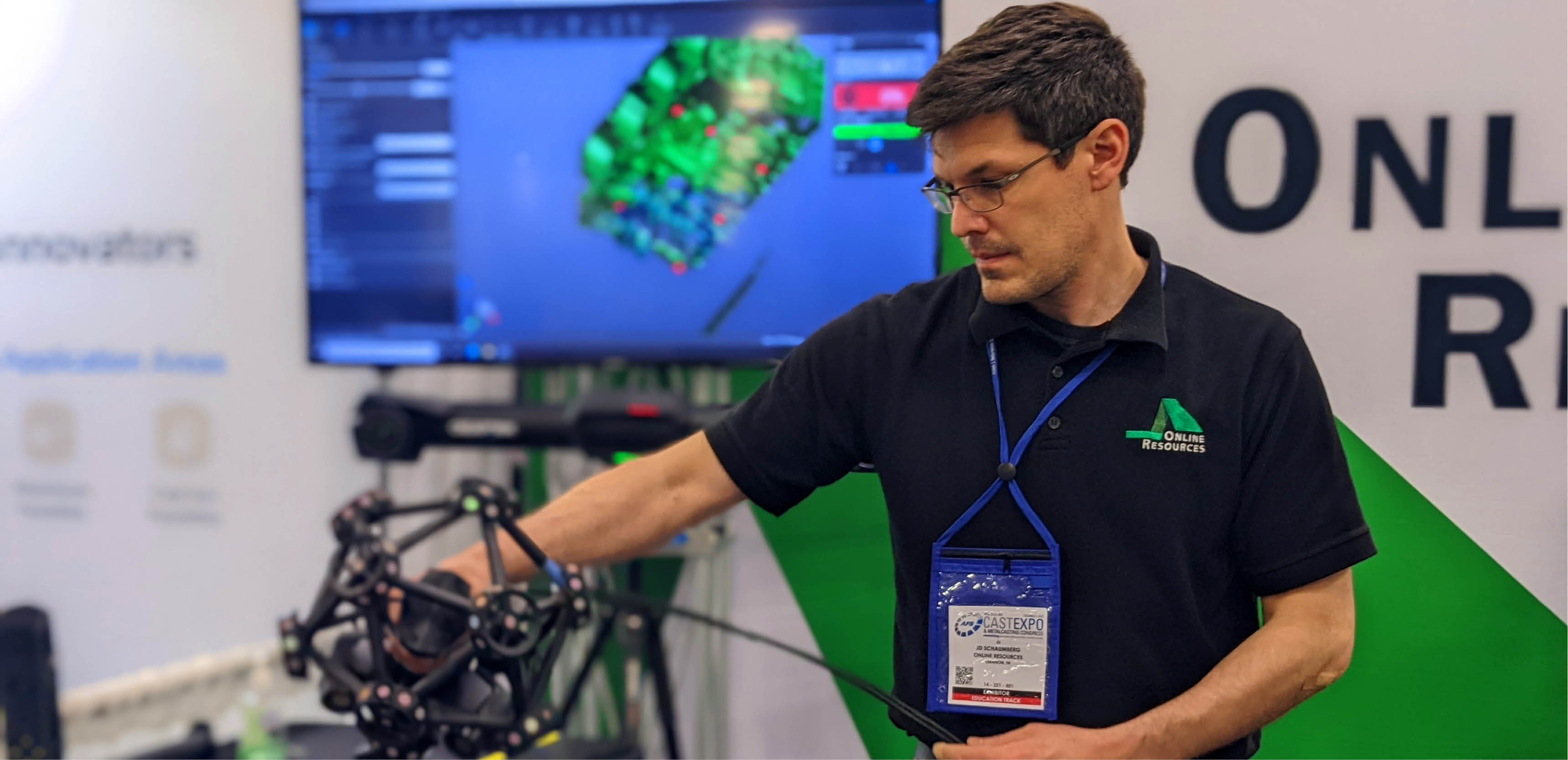 Metalcasting Congress is where casting designers, buyers, and OEM representatives will find sessions aimed at their needs, including casting case studies, reshoring, material properties and selection, and casting quality. Casting Designers & Buyers Track sessions take place right on the exhibit floor near the Cast in North America (CINA) pavilion, featuring the continent's leading foundry exhibitors.
---
Cast In North America (CINA) Exhibits
Meet with North America's leading metalcasters at the Casting in North America pavilion at Metalcasting Congress! Representing a wide variety of metals and processes, foundry exhibitors will showcase the latest foundry services and capabilities, and reps will be available to answer your questions.
You're also invited to bring our own blueprints (BYOB) to foundries exhibiting in Cast in North America. Show your casting drawings and machining drawings to representatives from North America's leading foundries, and they'll verify foundry capabilities, feasibility, costs, and material options.
Cast In North America (CINA) Exhibitors
Aalberts Surface Technologies
Alliant Castings
Atlas Foundry Company Inc 
Denison Industries
Dotson Iron Castings 
Elyria & Hodge Foundry Group
Great Lakes Castings, LLC
Impro Industries USA, Inc.
Jassos Steel Foundry
Kimura Foundry America, Inc.
LeClaire Manufacturing Co.
Monarch Industries Limited 
Neenah Foundry Co.
Osco Industries, Inc.
Palmer Foundry, Inc.
Pier Foundry & Pattern Shop, Inc.
Product Development & Analysis (PDA), LLC
Rochester Metal Products Corp.
St. Marys Foundry, Inc. 
TB Wood's
Waupaca Foundry
---
Training for Casting Designers and Buyers
The Casting Designers Buyers Track at Metalcasting Congress provides topical education for engineers, supply chain pros, and OEM representatives. Led by experts in their fields, these sessions are included with general admission and are presented on the show floor, near the Cast in North America pavilion. The four Casting Designers & Buyers Track sessions will cover reshoring, material properties and selection, and casting quality.
---
Casting Source Theater Schedule
April 26 | 12:45 p.m.
Case Study from the 2022 Casting of the Year Winner: Waupaca Foundry
Nick Kern and Tim Hill, Waupaca Foundry
When it comes to customer and industry benefits, the 2022 Casting of the Year checked nearly all the boxes: Reshored manufacturing to the U.S.? Check. Increased quality and durability? Yes. Improved consumer confidence? Yep. Streamlined production and labor resources? Nick Kern and Tim Hill at Waupaca Foundry will tell their story about how they collaborated with customer Amerequip to bring the first cast iron 12-in. backhoe bucket to market.
April 26 | 1:15 p.m.
Evaluating When to Reshore
Tom Kayser, Osco Industries
Mitigating supply chain risk is a main concern of manufacturers, and for many, that could mean reshoring product to a domestic casting source. Tom Kayser will present what factors go into calculating the costs associated with sourcing overseas versus somewhere closer to where final assembly occurs.
April 26 | 1:45 p.m.
Using the AFS Casting Alloy Data Search for Casting Design
Jiten Shah, PDA LLC
The latest version 3.0 of the AFS casting alloy data search (CADS) tool will be demonstrated. CADS now includes newly populated data of allowable design for commonly used aluminum, iron, and steel alloys derived from best practice data provided by a group of foundries.  A new mold material data search (MMDS) tool also will be demonstrated with shell and 3D-printed ceramic sand data. CADS is an ongoing, multiyear project managed by AFS, developed and maintained by PDA LLC, and funded by DLA/AMC.
April 27 | 9:15 a.m.
Tensile Bar Castings
Mark White, Impro Industries
In new casting development projects, there exists some form of an agreement between the casting purchaser and the casting manufacturer outlining the technical requirements for qualification to production. These may range from comprehensive, specific dimensional and metallurgical requirements a to a lone AS9102 dimensional requirement. A gap exists where casting designer/purchaser may assume metallurgical requirements, such as that machined from casting (MFC) test bars are intended to and must meet ASTM requirements. This adds cost in terms of excessive mechanical testing and lost production. This presentation will go over the metallurgical differences of cast shapes through case studies, mechanical and process data, metallurgical summary, photos, and a practical guide to manage this topic