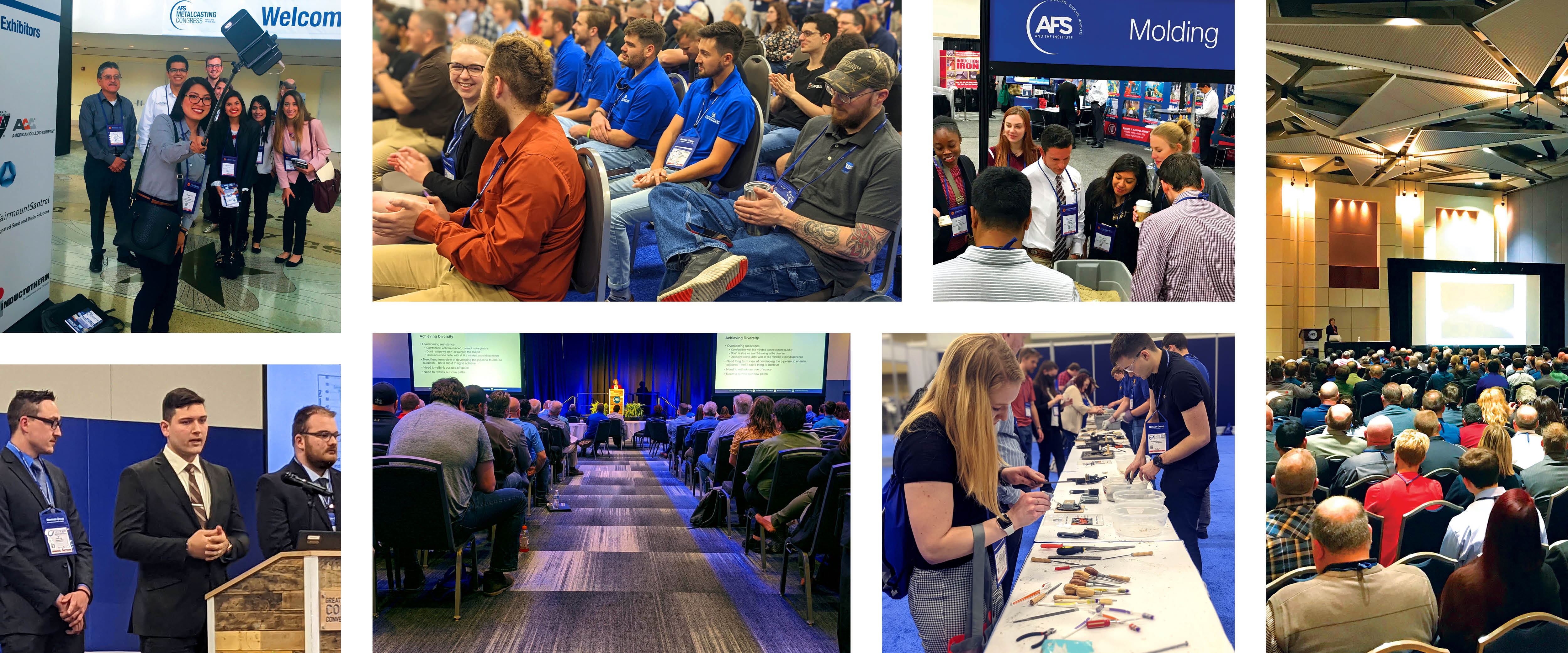 The best in metalcasting technology, products, and networking is coming to the Huntington Convention Center in Cleveland on April 25-27, 2023. Experience Metalcasting Congress and spark success!
Explore the bright future of metalcasting.
From the newest manufacturing tech to the latest breakthroughs in research, Metalcasting Congress gives you the first look at the trends and advancements that will shape the metalcasting industry for years to come.
Discover limitless opportunities.
Dive into interactive demonstrations. Talk shop with the experts. And meet face-to-face with top suppliers, metalcasters, and service providers. Discover how you can maximize your operations – and your profitability – at Metalcasting Congress.
Network with the best.
Metalcasting Congress brings together a worldwide community of professionals who aim to grow their businesses and their careers. From industry veterans to rising leaders, you'll make connections to count on throughout your professional path.
Who Should Attend Metalcasting Congress?
Foundry Owners and CEOs
Metalcasting Engineers
Plant Managers
HR Managers
Sales Managers
Trainers
Management Trainees
Supplier Technical Specialists
Sales Managers
Parts Buyers
Parts Designers
Parts Specialists
Students in Metalcasting Programs
Anyone connected to the worldwide metalcasting supply chain
What You'll Experience at Metalcasting Congress
Supplier Exhibits
More than 2,000 customers, peers, prospects, students, and others will be on hand, along with displays from 200-plus exhibitors.
Foundry Exhibits(Cast in North America)
Leading North American foundries will share the latest services and capabilities with designers, buyers, and OEMs in the capstone of the supply chain, the Cast in North America pavilion.
Environmental, Health & Safety Insights
Nothing is more important to metalcasters than workplace safety and environmental stewardship. From presentations delivered by seasoned experts to the newest equipment and services, Metalcasting Congress highlights the latest advancements in foundry EHS.
Lectures, Keynotes, & Special Events
From the Hoyt Memorial Lecture – one of the industry's most respected annual presentations – to engaging keynotes, banquets, and awards presentations, Metalcasting Congress highlights the best in industry knowledge-sharing and honors.
Education & Research
Metalcasting Congress delivers thought-provoking sessions, technical research advancements, AFS Institute classes, and panel discussions on how to improve operations, increase efficiency, enhance quality, and more, across all major processes and alloys.

Selected session topics include:
Additive Manufacturing
Casting Design & Purchasing
Engineering
Environmental, Health & Safety
Ferrous & Nonferrous Alloys
Future Leaders of Metalcasting
Industry 4.0
Marketing & Sales
Melting
Molding
Pouring
Quality Control
Workforce Development
Women in Metalcasting