Casting Designers and Buyers, It's Time for CastExpo 2019, and You Know What That Means! BYOB!
(Bring Your Own Blueprints)
The Designers & Buyers Track is returning this year, at no extra charge! BYOB!

Registration is open for CastExpo 2019 and its complementary component, Cast in North America (CINA). The event offers casting designers and buyers a unique opportunity to connect personally with foundry personnel, to review their needs and find a foundry that can execute on their blueprints. Access to designer and buyer sessions has been included with the base CastExpo show floor registration fee.
CastExpo 2019 is April 27-30 at the Georgia World Congress Center in Atlanta, and at this event, designers and buyers can learn even more about how to leverage the various casting processes to improve part performance, quality and costs.
As the largest metalcasting trade show and congress in North America, CastExpo is held every three years. For the metalcasting industry, it's the time to meet new customers, network with all the contacts they haven't seen in three years, see the best in new foundry equipment, and discover new business opportunities.
This year, a special Designers and Buyers Track is included with the base CastExpo registration, which includes access to the full trade show floor, keynote speakers and three days of special sessions covering topics specially curated for part designers and buyers, April 27-29.
EXHIBITORS
A significant number of foundries have already signed up to exhibit at Cast in North America, and the original floor plan had to be expanded to meet the demand. A full list of exhibitors is available here. Click on "Show Sponsors/Advertisers" and then "Metalcaster."
SESSIONS
Between visiting with foundry exhibitors, don't miss the lineup of presentations just for buyers and designers.
Saturday, April 27
What to Do Now: Sourcing and Manufacturing in America, 9:15-10:15 a.m., Rosemary Coates, Reshoring Institute

Rosemary Coates

We live in turbulent global manufacturing times. Dealing with cost, tariffs, and trade wars is causing manufacturers to rethink their global manufacturing and sourcing strategies. Should you keep sourcing molds from China? Should you start sourcing parts from alternate countries? And the big question: Could you bring some manufacturing back to America? Explore the possibilities with the leader of the Reshoring Institute. Rosemary Coates is an Amazon.com best-selling author with five books including "42 Rules for Sourcing and Manufacturing in China", and The Reshoring Guidebook. She has been a management consultant for 25 years and is an expert witness for cases involving global manufacturing. Coates also teaches Global Supply Chain Strategy at UC Berkeley.

Appraising Your Casting Supplier, 1:30-2:30 p.m., Jim White, Consultant

Jim White

Use audits to look beyond the basics such as metal, casting process, and size ranges to find a supplier whose capabilities match the needs of your company. Jim White has over 20 years of casting experience working as both a casting producer and purchaser for Caterpillar Inc. where he was responsible for developing processes for iron castings, advanced product quality planning (APQP), design for manufacturability, and continuous improvement. He also worked in Caterpillar's Purchasing Division, where he was responsible for $200 million in worldwide casting spend.

Casting Conversions, 2:45-3:45 p.m., Steve Metz, Applied Process

Steve Metz

Learn the roles manufacturing methods, designs, cost reductions, quality improvements, and 3D printing technology play in converting to a cast component. Over the past 27 years, Steve has held leadership roles at both Kohler Company and Wheelabrator Group, before joining Applied Process in Oshkosh, WI, where he currently serves as the Vice President of Sales.

Metalcasting Supply Chain and Design Roundtable Discussion, 4-5 p.m.

Join other casting buyers and designers to network and learn from one another, including discussions about best practices, threats and opportunities, lead times, cost reduction strategies, emerging technologies, and rapid prototyping.
Sunday, April 28
Cost Effective Casting Design, 9:15-10:15 a.m., Mike Gwyn, No Redesign LLC

Designs that are easy to manufacture saves time and money in the long run. Mike Gwyn will give several strategies to use to ensure your designs fulfill your requirements while also being easy to cast. 

Introduction to Ductile Iron, 1:30-2:30 p.m., Frank Headington, AFS

Ductile iron's unique properties make it a great option for converting multiple-piece steel fabrications into single cast components at lesser cost, inventory and lead time. 

Alloy Design Strategies in Aluminum Alloys in High Temperature and High Stiffness Applications, 2:45-3:45 p.m., Carl Soderhjelm

As aluminum demand continues to grow, manufacturers have sought the ability to use aluminum in high temperature, high stiffness and high electrical conductivity applications. This session takes a look at the how aluminum alloys are being developed and designed to meet these challenges.

Casting Conversion and Additive Manufacturing, 4-5 p.m., Jiten Shah, Product Development & Analysis

Jiten Shah

Casting conversion case studies from other processes such as fabrications will be presented. The conversion process will be explained with the use of the state-of-the-art computer aided engineering tools. Additionally, additive manufacturing for metal casting technology will be presented with success stories as relevant to casting conversion and part consolidation opportunities it brings.
Monday, April 29
From Design to Production: Elements of Autonomous Engineering for Casting Process Improvement and Its Impact on Lifetime Product Costs, 9:15-10:15 a.m., Vadim Pikhovich, Magma Foundry Technologies

This session will provide a general overview of how casting suppliers use casting process simulation and assist OEM designers in having smart conversations with process foundry engineers about design-for-manufacturing (DFM) potential, quality and costs with the help of simulation.

Tips and Trends in Casting Sources, 1:30-2:30 p.m., Marshall Miller

Miller, a casting sourcing professional, will describe his experiences and concerns in sourcing castings. Topics will relate to domestic options and how to foster relationships with suppliers to achieve cost effective solutions.

Casting Case Studies in Iron and Aluminum, April 29, 2:45-3:45 p.m.

Gregory Miskinis

Cost Effective Cast Iron Meets Lightweight Objectives: Aaron Conner, Hitachi Metals and Greg Miskinis, Waupaca Foundry

 

Technology Pushes Boundaries of Cast Aluminum Design, Oliver Johnson, Tooling & Equipment International

Identifying Casting Sources, April 29, 4-5 p.m., Bob Mueller, P&H Mining Equipment

A sourcing expert from a mining equipment manufacturer will share the lessons he's learned in his pursuit of quality metal casting suppliers in an ever-changing supply chain network.
BYOB
This year also marks the return of the popular "Bring Your Own Blueprint" program, where designers and buyers can show their casting and machining drawings to exhibiting foundries in order to explore casting options, verify foundry capabilities, and learn about feasibility, costs, and material options. To participate, attendees can bring their casting (and machining) drawings in blueprint form, or as a 3D model in digital form, to exhibiting foundries. This valuable program gives the opportunity to fix existing design problems or start a new program in the right direction based on knowledgeable input from metalcasters.
KEYNOTES
The show floor pass also gives access to the three keynote speakers who will invigorate attendees' imaginations and enthusiasm.
At 10:30 a.m. on April 27, Kaihan Krippendorff serves as the CastExpo 2019 opening keynote speaker. He is the founder of the Outthinker Roundtables with a reputation as a thought-leader and battle-tested consultant. He will speak about thriving in today's era of fast-paced technological change.
Hear about the amazing technical breakthroughs of cast iron during Doru Stefanescu's keynote at 10:30 a.m. on April 28. Stefanescu is Emeritus Professor at Ohio State University.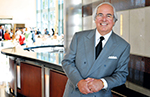 Finally, on April 29, Frank Abagnale provides insight into his life as the notorious imposter of the 1960s, a thrilling story told in the award-winning movie and Broadway musical, Catch Me If You Can. By age 21, Abagnale was known as America's most gifted con man, successfully impersonating an airline pilot, pediatrician, stockbroker, college professor, and assistant attorney general, all while cashing $2.5 million in forged checks. 
Advance registration (Feb. 16-April 26) is $100 for members and $200 for nonmembers. On-site registration also will be possible. A membership plus exhibits/Cast in North America package is also offered that buys access to CastExpo plus membership to AFS at $10 below the flat nonmember price.
Register at www.castexpo.com.